Axe-wielding club raiders make off with two boxes of Freddos
---
Published: 00:00, 05 March 2019
---
---
---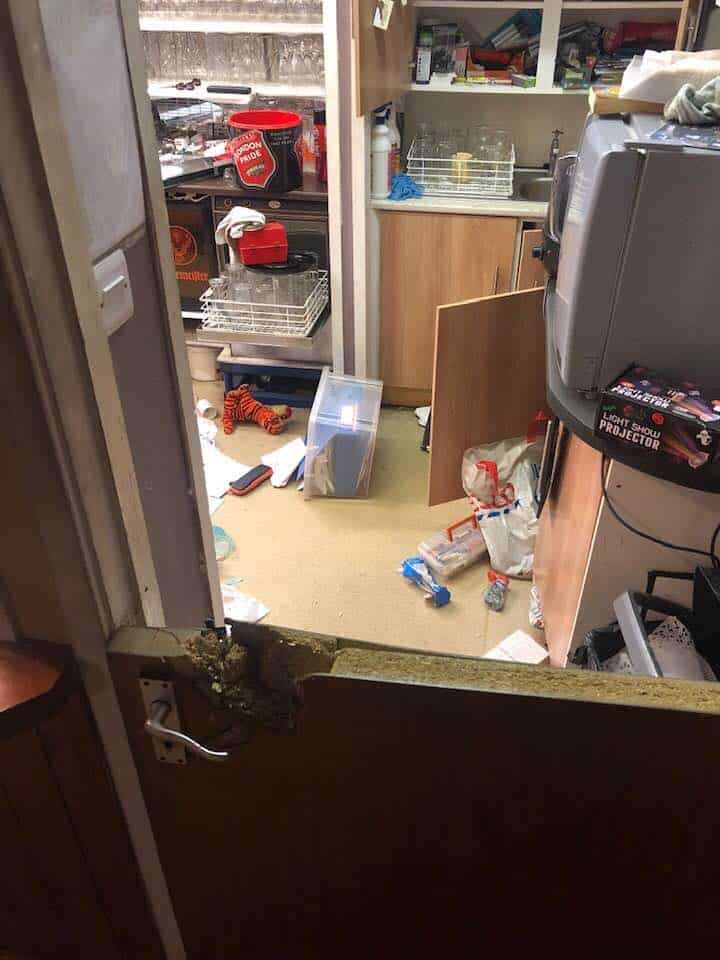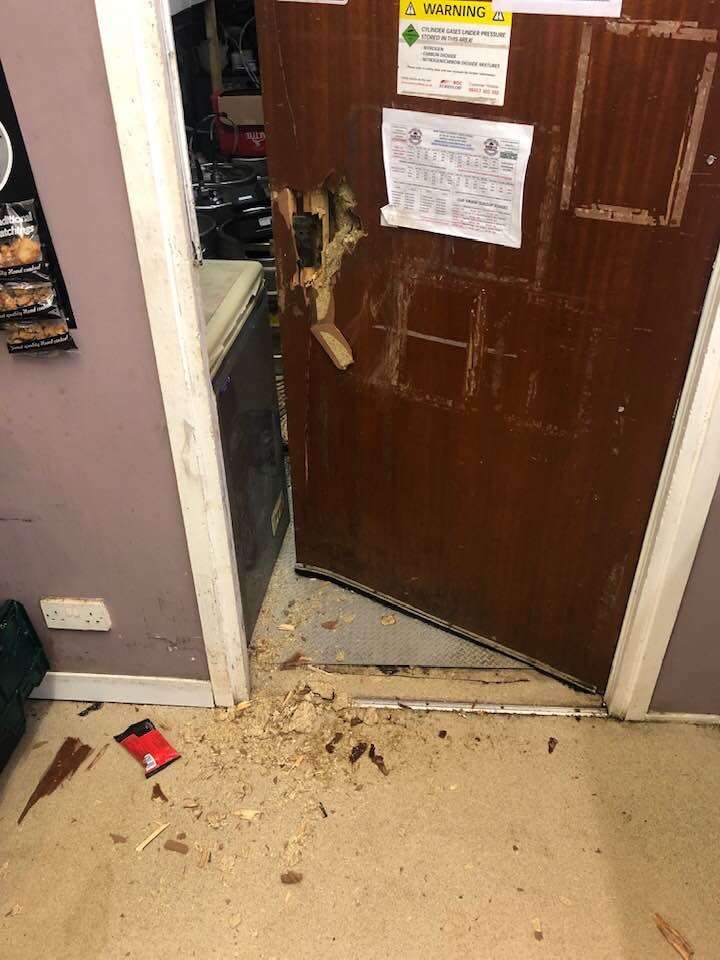 AXE-WIELDING raiders smashed their way into a social club near Fordingbridge but escaped with only two boxes of chocolate bars.
Hundreds of pounds of damage was caused when the two offenders broke the lower glass pane of a patio door to gain entry to Alderholt Sports & Social Club and wrecked two internal doors to access behind the bar and a storeroom.
The pair were caught on CCTV shortly before 1.15am last Friday as they swung a long-handled axe at the patio door before crawling in through the opening they had created. Footage has also been captured of them attacking the two other doors.
Speaking to the A&T after the raid, club chairman Karl Kirkcaldy expressed frustration that this was the latest of several incidents in which the Ringwood Road premises had been targeted in recent years.
He and his fellow club members were alerted when the intruders triggered the burglar alarm system which sent them instant alerts, and they were able to check the live CCTV feed on their mobile phones.
"Myself and the bar manager arrived soon afterwards and just missed them, which was probably a good thing because they had an axe!" Mr Kirkcaldy said.
"They took two boxes of confectionery, which are thought to be Freddo chocolate bars. They were in and out within three minutes."
The chairman praised the response from police after officers arrived at the club within 15 minutes of him calling them out upon seeing the live CCTV footage of the break-in.
A search of the surrounding area was carried out, with support from the Bournemouth-based National Police Air Service helicopter, but the suspects could not be located.
Mr Kirkcaldy said: "They [the police] had scenes of crime here and they also had a cyber detective who interrogated the broadband wi-fi as if the people who broke in had been in before and connected to our wi-fi, which is free to our customers, it would have registered with a 'handshake' when they broke in."
The premises has been targeted a number of times in recent years in both raids and attempted break-ins.
Photographs showing the trail of destruction left after the latest incident were posted along with a comment from the club on its Facebook page at 2.35am last Friday.
"Here we go again," the comment said. "And what did these master career criminals get for causing all this damage?.....two boxes of Freddos.
"Good CCTV and a partial number plate match of the white three-door Audi A3 they arrived in.
"Great job by Dorset Police who were here super quick and are on their tails, particularly given they are armed with a long handled axe."
In January 2017, the club's patio doors had also been forced to gain entry before the intruders stole two televisions and a sound system.
Commenting that had been the worst raid, Mr Kirkcaldy said it prompted the committee to ensure nothing of significant value was left inside the building overnight.
The club was hit again the following January, and in February this year would-be raiders forced a crowbar between the patio doors in a failed attempt to gain entry.
"It just seems to me that they're targeting the club because of where it is, which is somewhere quite isolated and rural," the chairman said.
"I can't imagine what they even think they're going to get. It's quite frustrating that it keeps happening.
"The amount of damage that they cause weighed up with what they actually take, you just can't comprehend it."
The cost of replacing the two damaged internal doors, which are both heavy-duty fire doors, was estimated to be around £300 each.
Thanking local company Heritage Windows for its donation of a reinforced and more secure UPV panel to replace the broken patio door window pane, Mr Kirkcaldy hailed this gesture as "marvellous".
Investigations into the break-in are continuing, and people are being urged to come forward if they may have witnessed any suspicious activity around the time it took place.
A Dorset Police spokesperson told the A&T no arrests had yet been made.
Anyone with information should contact officers on 101, quoting crime reference number 55190031590, or call Crimestoppers on 0800 555 111.
---
---